Our team at Landmark Yacht Sales has put together this Property Boating Report as a marketing resource for real estate professionals to quickly and easily communicate the boat related benefits of a waterfront property to their clients.  The goal is to use our expertise in the boating world to help paint a picture of the boat related value of a property and to help you show your clients what kind of boating they can enjoy in the surrounding area.
The report outlines boat accessible restaurants, marinas, local fishing, and boating destinations in a way that's accurate, thorough, and easy to share.
Each report is prepared for a specific property address, so we're promoting the unique features of each and every property.  
We're offering this resource at no cost, so all you need to do is reach out and let us know what properties we can help with!  Please contact Rob Buscaino any time to get started and to implement this information into your marketing strategy.  We look forward to working with you.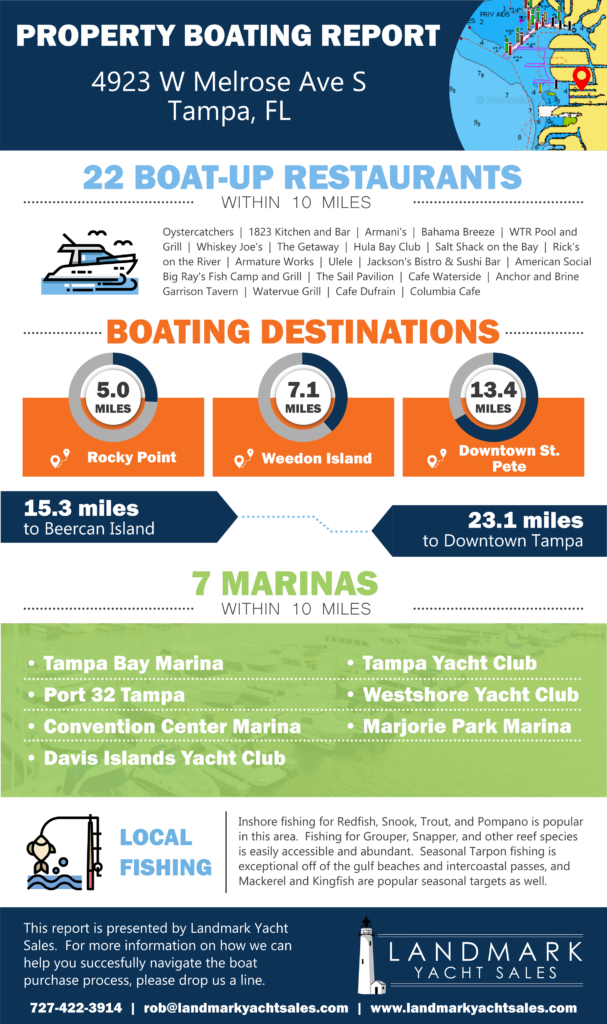 The standard report is designed for hard copy printing on a legal size page, but we also offer the information formatted for easy social media sharing through Instagram posts, Instagram stories, Facebook posts, and other platforms.  We're able to customize size and dimensions upon request too, so if you have other ideas just let us know.
Boat-Up Restaurants:
     The restaurants we include in this section either have their own dedicated docks like Salt Shack on the Bay or The Getaway, or have public dock access within a 5 minute walk like the restaurants on Beach Drive in Downtown St. Pete or in Downtown Tampa near the Convention Center marina.  The distance parameter is a straight line radius from the property we're preparing the report for but excludes locations separated by significantly non-navigable areas.
Boating Destinations:
     In this section we detail some of the most popular boating destinations near a specific property.  The locations we highlight change based on where the home is, and this section is intended to show some of the local favorites in the specific area we're promoting.  These distances are calculated with marine charts and illustrate real world dock-to-dock mileage between the home and the destination.
Marinas:
     The marinas we include in this section are within a straight line radius from the property we're preparing the report for.  We include public marinas, private marinas, and yacht clubs in the report.